Privacy Policy
Ambleside Manor ("we, "us", "our") are committed to protecting and respecting your privacy. This policy sets out the basis on which any personal data we collect from you, or that you provide to us, will be processed by us. Please read the following carefully to understand how we manage your personal data.
For the purpose of the Data Protection Act 1998 (the Act), the data controller is Zefirellis Limited, Compston Road, Ambleside, LA22 9DJ.
Information we may collect from you
We may collect and process the following data about you:
Information that you provide by filling in forms on our site ambleside-manor.co.uk, or our sister site Zeffirellis.com ("

our sites"

). This includes information provided at the time of registering to use our site, subscribing to our email newsletters or placing bookings. If you contact us, we may keep a record of that correspondence.
Details of transactions you carry out through our site will be retained by us and relevant third party payment services (currently SagePay)
Anonymous details of your visits to our sites, including your IP address and location. This is statistical data about our users' browsing actions and patterns, and does not identify any individual.
Cookies
Our website uses cookies to distinguish you from other users of our website. This helps us to improve our site. The cookies used on our site do not allow us to associate visits with individuals.
Where we store your personal data
The data that we collect from you may be transferred to, and stored at, a destination outside the European Economic Area ("EEA"). It may also be processed by staff operating outside the EEA who work for us or for one of our suppliers. By submitting your personal data, you agree to this transfer, storing or processing. Ambleside Manor and Zeffirellis will take all steps reasonably necessary to ensure that your data is treated securely and in accordance with this privacy policy.
All information you provide to us is stored on our secure servers. Any payment transactions will be encrypted using an SSL certificate.
Unfortunately, the transmission of information via the internet is not completely secure. Although we will do our best to protect your personal data, we cannot guarantee the security of your data transmitted to our site. Once we have received your information, we will use strict procedures to try to prevent unauthorised access.
We use information held about you in the following ways:
To provide you with information about accommodation, table or movie bookings that you have placed with us, or events and offers we feel may interest you, where you have consented to be contacted for such purposes;
to carry out our obligations arising from any bookings you place with us.
Disclosure of your information
We may disclose your personal information to any member of our group of companies which includes Ambleside Manor, Yewfield Guest House and Fellinis Cinema and Restaurant.
We may disclose your personal information to third parties:
In the event that we sell or buy any business or assets, in which case we may disclose your personal data to the prospective seller or buyer of such business or assets.
If any of Zeffirellis's assets are acquired by a third party, personal data held by it about its customers may be transferred to the new owner.
If we are under a duty to disclose or share your personal data in order to comply with any legal obligation
Your rights
You have the right to ask us not to process your personal data for marketing purposes. You can exercise the right at any time by contacting us at contact@ambleside-manor.co.uk.
Our site may, from time to time, contain links to and from external websites. If you follow a link to any of these websites, please note that these websites have their own privacy policies and that we cannot accept any responsibility or liability for these policies. Please check these policies before you submit any personal data to these websites.
Access to your information
The Act gives you the right to access information held about you. Your right of access can be exercised in accordance with the Act. Any access request may be subject to a fee of £10 to meet our costs in providing you with details of the information we hold about you.
Contact
Questions, comments and requests regarding this privacy policy are welcomed and should be addressed to contact@ambleside-manor.co.uk.
---
Zeffirellis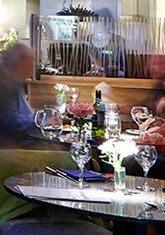 Zeffirellis opened way back in 1980 in what was originally an old cinema. The restaurant introduced pizza and pasta cooked with fresh ingredients; and with the combination of the cinema, the complete evening out theme developed. It soon became one of the Lake District's best loved venues.
Fellinis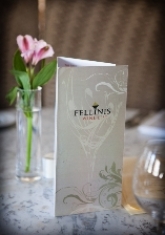 Fellinis opened in 2009 in the old Conservative Club building in Ambleside. The idea of a fine dining vegetarian restaurant offering a more intimate dining experience was developed; and with the unique design of this old building, we were also able to have space for a 98 seater studio cinema.